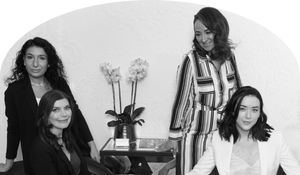 Our Practice
Avenue Skin Care clinic opened its Toronto doors in 2007, designed to offer a personalized experience in an elegant environment. By combining highly-qualified staff, the latest technologies and medical skin care treatments we deliver the best possible results for you. You could say we're the experts and we want you to feel your best.

We take pride in ourselves, our work and the services we offer.
"WHEN YOU KNOW YOU DESERVE THE BEST IT IS IMPORTANT FOR US TO MEET YOUR EXPECTATIONS CONSISTENTLY"
-Erica Savoie, Owner: Avenue Skin Care Clinic
Our Team
Erica Savoie Owner of Avenue Skincare
Erica Savoie has been in the health and beauty industry for over 8 years and is highly passionate about creating customized skincare treatments for each and every client.

After attending Centennial College for Medical Aesthetics, Erica practices and oversees all aspects of patient care and medical aesthetic services offered at Avenue Skin Care. Erica's deep knowledge and wide range of experience with a variety of medical aesthetic modalities including laser devices, body contouring treatments and skin care treatments and products allows her to combine and customize individualized options for each patient. Erica's goal is to achieve the best possible results and to ensure the highest level of service and most consistent results.

Erica and the team are dedicated to ensuring that Avenue Skin Care's comfortable and friendly environment will help you feel at ease, taken care of, and most importantly confident that you are in the hands of experienced professionals with access to the latest technology.
ANGELA
MEDICAL SKIN CARE SPECIALIST
Angela graduated from the Sheridan College Aesthetics program in 2001 and has over 18 years of experience in the skin care industry. Having owned and operated her own spa for five years Angela is passionately devoted to enhancing the longevity of healthy skin. Angela's goal is to provide each and every client with individual care and to provide effective results during treatments and for post-treatment home care as well. Her on-going industry training not only improves her skills, but strengthens the connection and trust she has with each client. Angela is known for her calming personality and gentle touch. She provides a wide-range skillset of medical aesthetic treatments and soft aesthetics.
YVETTE
SKINCARE SPECIALIST & BROW TECHNICIAN
As a graduate of Marvel Beauty School, Yvette joined the Avenue Skin Care team in 2013. She has been working in all areas of aesthetics since 2000. Yvette garnered honours and awards for her attention to detail and dedication to the field. Yvette specializes in threading, eyebrow shaping and microblading and takes pride in providing personalized care through her meticulous work. Yvette's trademark is her passion for perfecting brows and continues to be a go-to arch expert at Avenue Skincare!
NANCY
OFFICE ADMINISTRATOR
Nancy joined the Avenue Skincare team in 2018 and quickly became part of the family. With years of experience in modeling, Nancy has always been passionate about the beauty industry. Nancy has a warm and friendly personality as she takes the utmost care with our clients at Avenue Skincare.
JESSICA
LASH ARTIST & TECHNICIAN
Jessica began her beauty career in New York in 2001.  She had a natural flare for beauty and makeup and quickly found herself immersed in the exciting world of makeup artistry.  From NY Jessica moved to Nashville and continued to grow as an artist adding lash & brow styling to her roster of skills.  When she moved to Toronto, Jessica began working in film, on set for photo shoots and with various prestige cosmetic companies.  This gave her the opportunity to work with numerous celebrity clientelle including Susan Sarandon, Julianne Moore, Bruce Willis, Helen Mirren and Hillary Swank, among others.  Jessica's outstanding attention to detail, passion for her craft and great attitude are what make her a stand out artist.  
VISIT JESSICA'S SITE